Complete HRM Solution
PiHR is a popular HRM Software and employee management software in Bangladesh that helps in time of tracking and attendance management. Pihr is the best hrms software in bangladesh.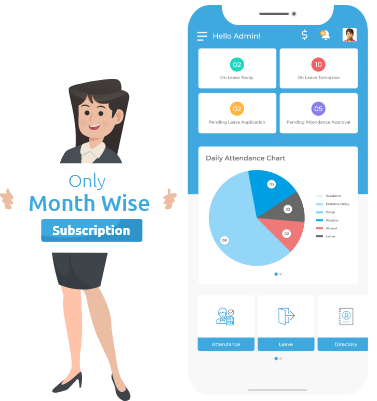 HR software used by companies performs all HR activities for human capital management (HCM). It is also called Human Resources Management Systems (HRMS) or Human Resources Information Systems (HRIS).
HR software plays a key role in human resource planning and development function.
Our HR Management software is  saas based hr software built for small and medium-sized businesses. To understand hrm bd fundamentals you have know more how hr software works. It helps an organization with their employee's daily task management, attendance recording, and leave history.
We are motivated to serve you on the path of your welfare and personal development. Although we are a business entity, we are here to help you succeed and we love developing great hrms software. Since we love our work, we perform better than others. But what makes us the happiest is the fact that we are sure our software makes life better for our clients. We believe work should be an outlet for greatness. If we can free up your time to do great work, everybody wins.
As you know, time is more precious than gold. So, we ensure that you make the best use of your time. Our software is really a profitable investment in your time. The proverb says, "Don't give me a fish, but teach me how to catch it." Consequently, our software equips you with the necessary skills to a bright future for you. That makes us the best HR Software company in Bangladesh.
All-in-one HR Management tool
Storing information electronically can improve efficiency in recording and finding information. This can be a substantial benefit for companies in which information is routinely lost or misplaced, or where large filing cabinets are needed to contain the information of a large workforce. In addition to being able to store the information using less space and find needed data in seconds, electronic data can also be analyzed for strategic purposes and better secured against breaches and hacking. We provide the best hrm software in Bangladesh. Hrm bd is deeply connected with PiHR with all the features it provides. It is the best tool to guarantee your information security and safety as well. Moreover, storing information electronically provides much space in companies to be utilized for other purposes. It also saves time and effort, which is beneficial in itself. This great tool allows us to process data quickly and accurately and update them when it is necessary besides retrieving them in seconds, which is impossible for other traditional tools or ways to implement with the same degree of accuracy and quickness. To sum up, the All-in-one HR tool is comprehensive and can be compared to a stone hitting many birds at the same time as it achieves many tasks, duties, and functions on itself. Therefore, any company cannot do without it.
Automated Payroll System
Having an electronic payroll system can save a company the trouble of outsourcing payroll needs and give the company more control over payroll information. Of course, at the very least it makes sense to link in-house payroll features directly to employee information and time and Attendance Monitoring software. This can reduce the risk of entering and calculation errors greatly while making paydays easier. Thus our automated hr and payroll software system is another advantage of our software and considered a great facilitator to our clients. We are providing the best hr payroll software in Bangladesh for medium to large businesses.
Save Time & Reduce Errors
Without a proper HRM Software System, HR professionals must manually transfer all employee benefits selections to the carrier systems. It can be a logistical nightmare. An HRMS System with carrier connectivity eliminates errors by sharing the information in your system directly to specified benefit carriers, eliminating the need to re-enter any data. Not only is it a huge time saver, but also it reduces the chances of manual error to a large extent.
We invite you to take this self-guided tour through the PiHR experience. You can go through and review at your own pace. If you still need to understand better, just schedule a demo or start your free trial with us and enjoy the best HR Software in Bangladesh.
Security
Our software always comes with pre-built security. We emphasize on protecting software, data and access controll on every part of the system we build.
Employee
A complete HR software centralizes all employee data in one place.Usually it stores all employee documents digitally. It can also provide a detailed analysis report of any employee.
Leave
It can be structured to follow the starting and closing of any specific leave year. It also provides support for the multi-level approver. A leave calendar is also included into the software.
Attendence
Management needs HR software primarily to track attendance. It is beyond question how tedious a manual attendance system can be. Whereas an integrated HR software assures the best Attendance Monitoring recording. An office can have a fingerprint attendance machine instead of the traditional one.
Salary
Employees work for their salary.It ensures the employees that their salary is calculated correctly. It reduces the workload for the managers with salary One-click salary generation process and various types of reports. PiHR is the best hr and payroll software in Bangladesh.

Self-Service
With PiHR HR software, the employees can apply for leave and visit applications, provide daily attendance, view Profile for both organizational and personal information by themselves from an app easily. Supervisor can also approve leave, visit,and remote attendance and so on applications from mobile app.
PiHR simplifies HR processes not only for employees but for Managers as well. It is a great tool for making employees satisfied by ensuring correct records are kept and therefore a more reliable report on their performance of their activities can be generated. On the whole, it is a compact package of Web and Mobile Apps with reasonable prices and tremendous features. 
Customizations
We have highly configurable options available in the system. It definitely helps us to maximize customization within the system.
Training & Implementation
Our HR experts provide a full coverage training for system operations and implementation of the whole system within an acceptable time frame. It ensures the best output for the managers from the very beginning.
Technical Support
Free technical support and IT experts are available to help managers to solve any kind of issues that may arise in day to day activity. They are efficient to tackle any given scenario related to our software.
 I have found HR solutions to be very professional, easy and quick to obtain advice from and always very accessible.
By the end of their engagement, HR Solutions Partners had established a solid foundation that enabled our company to effectively manage our growth. They offered and delivered a strong cross section of skills to address and solve our critical HR needs.
We just wanted to thank you for all of the hard work and guidance. Your assistance made us produce a great handbook for our associates and managers. It is much clearer and easier to understand. The feedback has been positive on the changes we made.
Say Hello
Any query? Feel free to write us!
Want to try our PiHR live Demo?