ZKTeco K40 Fingerprint Attendance and Access Control Machine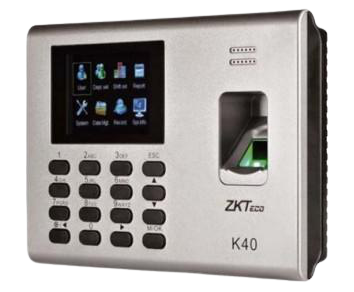 ZKTeco K40 is a fingerprint attendance machine and Simple Access Control Terminal
Most importantly, it has a built-in backup battery which can eliminate the trouble of power
failure
You can get the best from it with elegant appearance and reliable quality
It is able to verify fingerprints with higher efficiency.
It is well known for easy installation and Connectivity.
Description
The K40 Pro is one of the most advanced fingerprint attendance machines of ZKTeco. This access control terminal features a 2.8 inch TFT screen display. The time attendance machine has a simple yet effective interface that makes it easy to use. It comes with TCP/IP client and USB communication, which makes data management very easy.
The K40 Pro is equipped with an in-built backup battery that ensures uninterrupted performance. This is helpful, especially in case of a power outage, and also makes the machine portable. Additionally, the machine provides multiple interfaces for third-party exit buttons and electric locks. K40 supports multiple languages, which makes it suitable for different work requirements.
The attendance machine has a fingerprint capacity of 1000 and an optional 1000 ID card capacity. Moreover, the record capacity is 80,000. K40 Pro features some standard functions such as WDMS, SMS, self-service query, and work code. It also has an automatic status switch, web server, schedule bell, etc. Furthermore, the attendance machine functions with push data technology.
Features
2.8 inches TFT screen display

Economical attendance solution

Integrated backup battery

Supports multiple languages

Interfaces for third-party exit button and electric lock

Easy data management with USB host and TCP/IP communication

Fingerprint capacity of 1000 (2000 without SSR)

A record capacity of 80,000 and ID card capacity of 1000 (optional)

Standard functions are Web Server, Automatic Status Switch, Schedule Bell, WDMS, Self-Service Query, DST, 9 Digits User ID, Wok Code, and T9 Input

ID/Mifare optional functions

Operating temperature ranges between 0 °C and 45 °C

Less than 0.5 sec of verification speed